A crewel wool work embroidered panel on a quality linen twill fabric. Made into a cushion that would add  a subtle splendour to interior design.
The cushion has a thick silk piping in rose pink and the back is a dark purple/grey French cotton.
The pad is stuffed with hollow fibre in a cotton casing.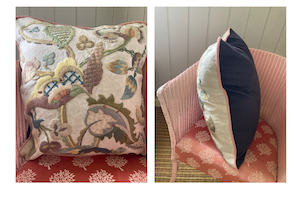 With added zipper for easy washing.
Wash by hand with warm soap and water and spin.
Shipping to UK addresses for a cushion is £8.00 flat rate.
Size 50 x 50cm.