A 1960/70's embroidered panel of flying ducks and accompanying kingfishers which has been repurposed to make a cushion with a French brown cotton mount and back and a terracotta cotton piping,
With added zipper for easy washing.
Wash by hand with hot soap and water and spin.
Filled with virgin Hollow fibre.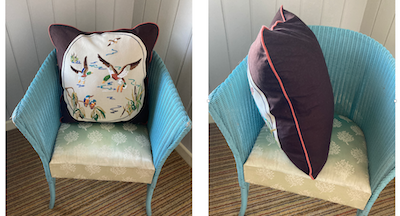 Size: 46 x 46cm
Shipping to UK addresses for a cushion is £8.00 flat rate.