Helen Gillilan – an artist at Dungeness.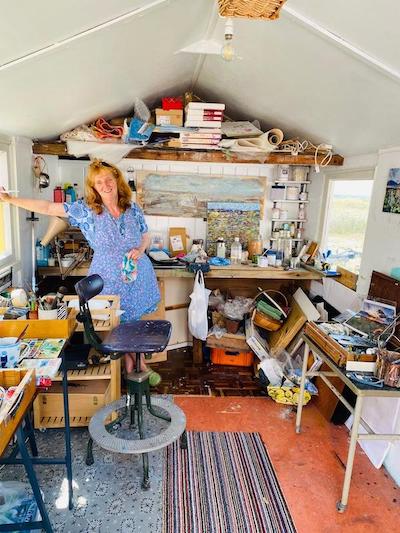 I enjoy realising a piece of prose and burrowing beneath the surface. I'm interested in the effects that the work and the care of people and past events have on the landscape here at Dungeness … The sculptural winches, long left behind by the sea shore; a walkway on the beach, seen constructed in the snow, or a pathway determinedly created over the years by a local newsagent and his wife with newspaper and carpet.
.The story.
A glimpse – fleeting expression. A vase of flowers fresh picked and placed in the sun. A place; a poem; a play – dawns, dusks and sunsets…layers, shadows…visions & undercurrents.
Life…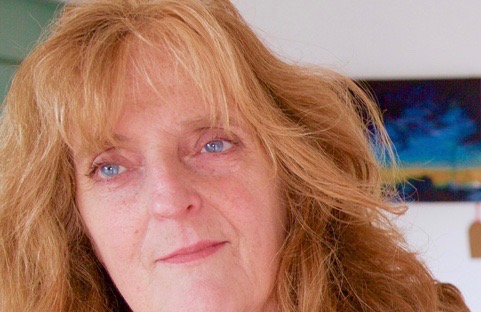 Helen Gillilan was born in Cornwall and attended Plymouth Art College Foundation Course in the 1970's. In the mid-nineties she continued her art education when she studied Theatre Design at Rose Bruford School of Speech and Drama in London.
In between these two periods of education, Helen satisfied a passion for vintage clothes at her Plymouth junk shop (Sunshine Antiques). Moving on to California, where she did a stint as a shoeshine girl at San Diego Airport and a La Jolla Car Wash.
She returned to the UK in 1984 with the intention to resume her art education, and instead entered an extended period in sales – travelling to the USA once again and finally returning home and work with a British furnishing fabric company.
After years of travelling for work, the desire to make and paint led her to move to a studio in Symondsbury, Dorset. When recession hit in 1990, she finally worked for a wonderful five year period at her "Oakhayes" studio full-time.
In 1991 she hosted her first solo show at Bridport Art Centre, followed by inclusion in several group shows at SW galleries. In 1993 she travelled to Chile with a Raleigh International Expedition as Field Artist – on her return she produced a body of work – with a solo show at the Collaton Gallery. Helen moved to London to study theatre design in 1995 – continuing to sell and exhibit through her college years at Spitalfields Art Market and with another solo show at Greenwich Theatre.
In 1996 she met the artist Paddy Hamilton and after working in collaboration at his Vauxhall studio, the pair moved to Dungeness and established Dungeness Open Studios.
After Helen's mother's* death in 2001, she purchased Ocean View at Dungeness and in 2017 opened her own studio – Ocean View Studio Gallery.
Helen explores the sublime beauty of Dungeness through her paintings; describing the changes that the extreme weather and resulting light evokes both aesthetically and thematically.
She says, " Each piece of work is a many layered journey, both regarding how the image develops and where the materials will lead. It's a partnership between the materials and myself.
*The poet, Pamela Gillilan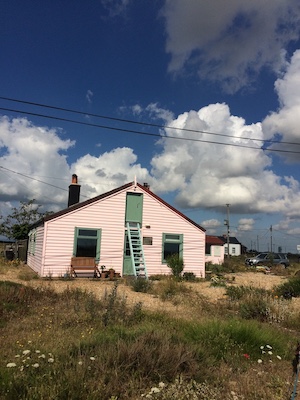 Due to continuing Covid 19 restrictions, it is unlikely that the gallery will re-open in 2020.
If you would like to view a particular painting please call 07970 148 476 to arrange.